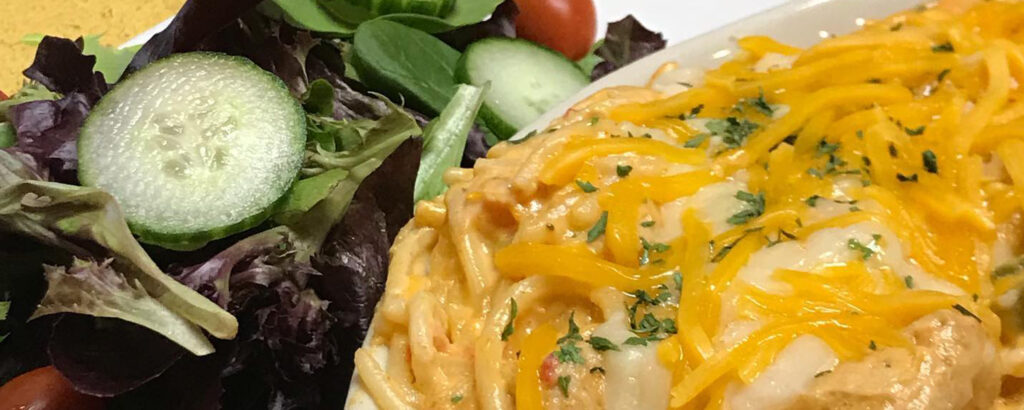 Appetizers & Southern Favorites
Cajun Shrimp and Grits
Maxwell's Andouille cooked
in a creamy Cajun sauce
served over smoked Gouda
cheese grits
Fried Green Tomatoes
Espresso based, steamed milk
Red Beans and Grits
Louisiana Red Beans, smoked
sausage and Tasso served over
creamy smoked Gouda cheese grits.
Fried Avocado Wedges
Four fried green avocado wedges served
with a Basil & Lemon mayo.
Soup & Salad (Add grilled chicken breast 4 or shrimp for 5 )
Soup of the day
Please ask your server what we have today.
Chopped Salad
Romaine lettuce, purple onions, tomatoes, bacon, hardboiled eggs, & blue cheese tossed with a smoked tomato dressing. Topped with shoestring fries.
Seafood soup
Ask your server what we have today.
Toasted Walnut and Grape Chicken Salad
Scoop of chicken salad on top of
spring mix tossed with a Raspberry vinaigrette, apple slices and a Biscotti.
House Spring Salad
Spring mix, cherry tomatoes,
apple slices and a Biscotti with
your choice of dressing.
Trio of salads
Your choice of either chicken salad
or tuna salad along side of pasta
salad and fresh fruit salad.
House Wedge Salad
Ice Berg wedge, purple onions,
cherry tomatoes and bacon
with your choice of dressing.
Fruit Salad
Fresh assortment of fruits with
a poppy seed dressing.
Caesar Salad
Romaine lettuce, croutons, purple
onions and fresh Parmesan
cheese w/ Caesar dressing.
Spinach Salad
Baby spinach, cherry tomatoes, mushrooms, purple onions, bacon and hard-boiled eggs with creamy spinach dressing.
Kale Salad
Kale tossed with citrus balsamic vinaigrette, topped with strawberries, cranberries, crumbled blue cheese and candied pecans.
Creamy Dressings:
Ranch, Blue Cheese, Creamy
Spinach, Smoked Tomato
Vinaigrettes:
Raspberry, Citrus Balsamic, Caesar
Deli Sandwiches
Sliced Avocado Sandwich
Sliced fresh avocado with tomato,
spring mix & Muenster cheese
with a basil mayo on whole wheat
bread.
Smoked Chicken
Salad Sandwich
Spread made with smoked chicken,
bell pepper, shallots, garlic & herbs,
spring mix & tomato on whole
wheat.
Fried Green Tomato BLT
Fried green tomatoes, bacon, iceberg and horseradish mayo on toasted sourdough bread.
Pimento Cheese
Sandwich
Roasted red peppers, aged cheddar
cheese spread and spring mix
on toasted wheat.
Biscotti's Club
Sandwich
Turkey, ham, bacon, Muenster
cheese and Cheddar cheese served
with lettuce, tomato, mayonnaise
and mustard on three slices of
toasted wheat.
Tuna Salad Sandwich
Tuna salad and spring mix and
tomato on toasted wheat.
Sandwiches served with Sun Chips sub fries for 1.50 or Sweet Potato fries 2
(all split sandwiches add 1)
Burgers and More
Cow Burger
8oz Angus beef patty on a
yeast bun with lettuce,
tomato, onion, pickles.
Shrimp Po-boy
Succulent fried shrimp piled high on toasted French bread served with creole tartar sauce, Iceberg lettuce, tomatoes and purple onions.
Turkey Burger
8oz of ground turkey on a
yeast bun with lettuce,
tomato, onion, pickles.
Croque-Monsieur
Ham and Gruyère with Dijon grilled on buttered Sourdough topped with cream sauce, a French style sandwich that requires a fork and knife.
Pulled Pork Sandwich
Applewood smoked pulled pork served
on a yeast bun.
Chicken and Spinach Crepes
Chicken and spinach filled crepes
with a cream sauce and mozzarella cheese with choice of fruit or spring green salad.
Grilled Chicken Sandwich
Grilled chicken breast on a
yeast bun with lettuce, tomato, onion, pickles.
New Orleans style Roast
Beef Po-boy
Dripped beef with mayonnaise, lettuce, pickles and tomatoes served on toasted Cuban bread. green salad.
Add any cheese, avocado, bacon or sweet potato fries for 1.
Hand cut fries served with sandwiches below, mayo and mustard come on the side.
(All split sandwiches add 1, No substitutions for fries).
Kid's Meals
Grilled Cheese
Sandwich
Cheddar cheese grilled on Sourdough bread.
PB & J Sandwich on Toasted
Wheat

Smooth peanut butter and strawberry jam.
Grilled Ham & Cheese
Sandwich
Ham and Cheddar cheese grilled
on Sourdough bread.
Fried Chicken Strips
Three chicken strips served with honey mustard.
Kids meals served with crispy fries
For children 12 and under
Desserts
Divine Chocolate Pie
Key Lime Pie
LA's Bread Pudding with
Whiskey Sauce
Assorted Cookies
Biscotti

Cake of the Day
Fresh Berry Cobbler
Brownie
Orange Brownie
Scoop Ice Cream
Beverages
Coke, Diet Coke, Dr. Pepper, Sprite
Iced Tea, Iced Fruit Tea, Lemonade
Dine in customers receive free refills for most beverages.
Hot Drinks
Lewis Blend Coffee
Hot Tea

Now serving alcoholic beverages
Beer / Wine, Mimosas
Ask your server for our current selection.